The Mas
Living "Mas Parenthèse" in the heart of the garrigue of Nîmes
We had a dream of building a holiday home in a
A unique site, in the middle of nature, where everyone can slow down, recharge their batteries, and share with family and friends.

We fell in love with this piece of scrubland with its ruined sheepfold, its capitelles, its dry stone walls, its scents and its Mediterranean vegetation.

We spent 3 years thinking, shaping and polishing this place to offer you a suspended moment, out of time. The top-of-the-range facilities (14 x 4 m pool, jacuzzi, sauna and massage table) allow you to relax and rejuvenate.

We called this house: Mas Parenthèse.

Ideally located between the Provence and Camargue regions, the 250 m² Mas Parenthèse is nestled in peaceful grounds of 3,500 m2, enclosed by low walls known as clapas, offering a 180-degree panoramic view over the garrigue.

You will be in the middle of nature, and yet only 10 minutes from the TGV station and the center of Nîmes.
A time capsule, out of time.

Living "Mas Parenthèse" Inside-out
A corridor lined with eucalyptus wood along the pine and arbutus trees will make you discover your vacation home on the terrace side.
The living room and all the bedrooms are bathed in light and open through bay windows like a painting on nature.
Your Mas
Living Inside: cosy living room with linen sofas, brushed oak table, open kitchen with counter, bow window with sheepskins, wood-burning stove …
Living Outside: a natural, rootsy atmosphere for your outdoor living space, which will be your focal point throughout the day: bohemian sofas, dining area, summer kitchen, barbecue and video projector for outdoor cinema sessions…
Not to mention the guinguette-style pool bar!

Your relaxation
Living Inside: Zen area with sauna and massage table
Living Outside: a 14-metre swimming pool with its own beach, a spa surrounded by arbutus trees, deckchairs in unfinished wood, and dedicated, floodlit areas for leisure activities during the day or at night.

Living the "Mas Parenthèse" spirit
We favored authenticity, raw materials and took the time to choose the shapes and colors of each object for their experience and craftsmanship.

Everything around you is designed to make you feel that Nature is simply beautiful: dry stone walls, furniture in raw oak with bark or brushed oak, paintings in ochre earth, natural pigments and rusted metal sheets, raku lamps, wood carved by time…

Daniele's passion is to create, to work the material, to bring out its beauty simply, to give a new life to objects.

Pascale's passion is light.
Everything has been designed to provide each area with the right lighting, creating a serene and convivial atmosphere at all times: a bohemian atmosphere for the Outdoor Living Area, a guinguette spirit around the swimming pool, an evening game of pétanque under the pine trees…
Because we are convinced that a beautiful place encourages beautiful moments.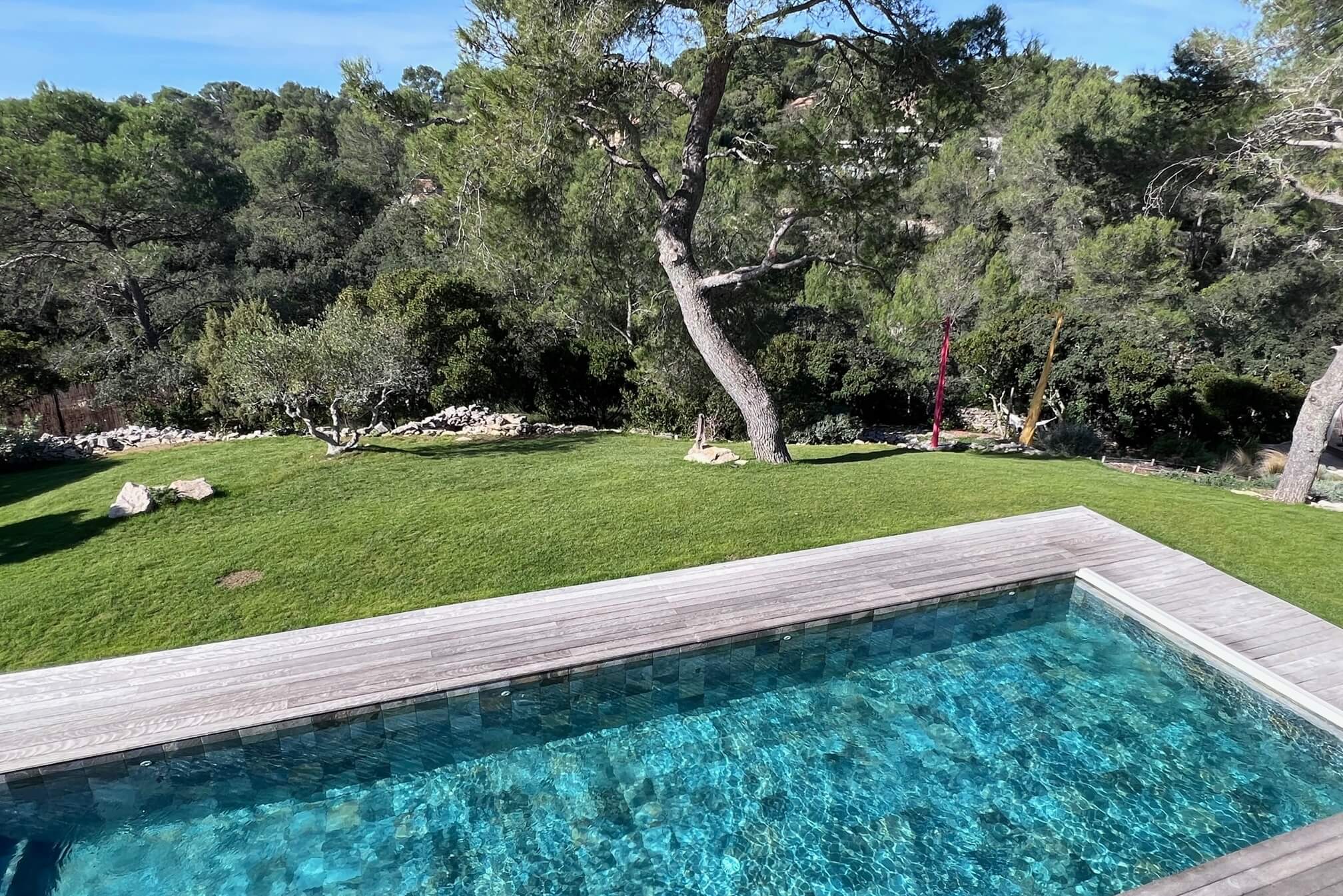 In harmony with nature. Throughout the day.
Discover the Mas in a video shot in 360° so that you can appreciate the omnipresence of nature and the unobstructed view over the garrigues offering an exceptional panorama.

The building that you will see below is Danièle's Atelier, which will obviously be unoccupied throughout your stay.

If you'd like to discover it and even treat yourself to some of the Mas' decorative items, you can do so on Wednesday mornings from 11am to 1pm, during the maintenance hours of the Wellbeing facilities: swimming pool, spa and sauna.